Post Last Updated – Jun 6, 2015 @ 10:50 pm
Let me ask you a question – you have noticed that little button on your iPod or iPhone or iPad when listening to your favorite Audiobook which rewinds 30 seconds back on your current media file, haven't you?
If yes, I bet you'd admit that you haven't seen that on all of your audio books. Correct?
Then, let me show you a quick way to get that uber cool button back to ALL of your audio books for your iPod, iPad or iPhone.
Let's get started:
Connect your iPod to your computer and open iTunes.
Right click on that audio file which currently doesn't show 30 seconds rewind button for you.
Click on Get info
Go to Options tab
Select the Media Kind dropdown button and select 'Audiobook'.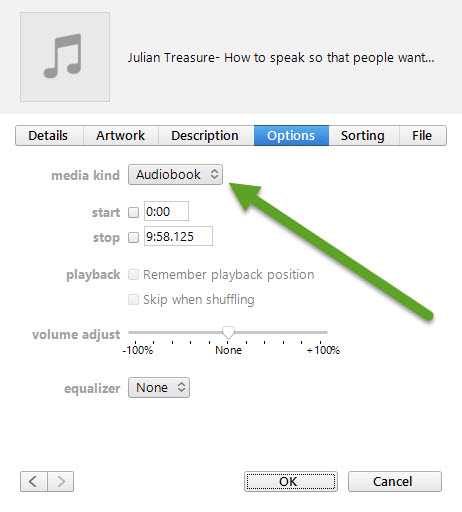 Now your iDevice synchronizes with the change made and tada… your media file on the iPod shows that 30 seconds rewind button now magically!!
[Tweet "Get back that 30-second button on your iTunes for Audiobooks via @thekeyponderer"]
Check it out! And before I forget – let me say that if you leave a comment below after you see that it worked for you, it'd make my day!